Description
Mold of 38mm for interchangeable press
Mold of 38mm for interchangeable press ideal for all those need to produce medium-big amount of material.
HOW DOES IT WORK
Who had bought one of the our interchangeable press equipped with different molds of different sizes and he wants to start producing pins and magnets or other 38 mmgadgets needs only to buy the 38mm mold and replace it.
The replacement is very easy and doesn't need the use of specific tools.
Instructions for use
STEP ONE
You need to create and print the graphics of your 38mm pins
The first step is realize the graphics of your pins.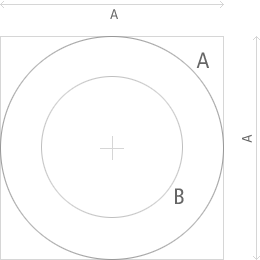 So, for 38mm pins, the diameter A should be of 51mm, the diameter B should be of 37mm.
STEP TWO
You need to print the graphics of your 38mm pins
When you have finished to print the graphics of your 38mm pins, you need only to trim them with our circle cutters.
STEP THREE
Assembly your 38mm pins
Now you need one of the press for large volumes.