Description
KIT 500 badge coins 25mm
Kit 500 badge coins 25 mm with flat metal back, for clever personalization :-).
Each one of the badge coin 25mm is constituted by:
– a metal front part
– a polyester film
– a flat metal back part
HOW DOES IT WORK
The first step is realize the graphics for your brand-new badge coin.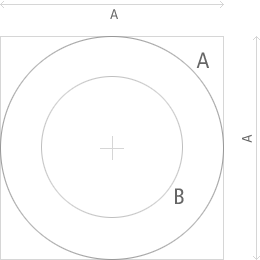 So, for a 25mm badge coin, the diameter A should be of 33mm, the diameter B should be of 24mm.
STEP TWO
You need to print the graphics of your 25mm badge coins
When you have finished to print out your graphics, you need only to trim them with the right circle cutter.
STEP THREE
Assembly your 25mm badge coin and start distributing
Now you need one of the press for pins.